Quinte West Chamber of Commerce News
Opening of Heroes Landing Banquet Hall and Conference Centre
-
Heroes Landing Banquet Hall and Conference Centre is officially open and ready to host your next event in Trenton.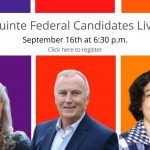 Bay of Quinte Candidate Questions
-
The pandemic and its effects on Ontario business continue to be felt by many in our community. Future public policy and the next Parliament must focus on developing pragmatic policies that ensure a strong post-pandemic recovery. The priorities of the province's business community must be front and center during the federal election so we asked the local candidates three business questions.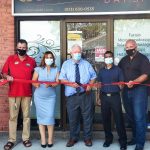 Opening of Chanelle's Eden Day Spa
-
Chanelle Grosser has spent years pursuing her passion for esthetics and is now ready to open her doors to the community with the official grand opening of Chanelle's Eden Day Spa in Trenton. After emigrating from India in 2016, Grosser graduated with honours and was chosen Valedictorian from her graduating class at Trillium College in 2019.