Quinte West Chamber of Commerce News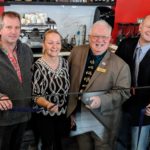 Grand opening of the Old Bank Café in Frankford
-
Pavla Hoca used to be a fashion and textile designer but after moving to Canada, her love of baking led her to open the Old Bank Café in Frankford. "I have baked hand-painted honey cookies and other European pastries for many years," said Hoca. She was looking around the city with her husband and the old Molsons Bank building caught her eye.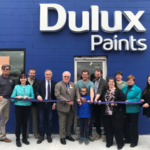 Official Ribbon Cutting of the new Dulux Paints in Quinte West
-
Quinte West, ON — Dulux Paints is a brand new paint store in Quinte West, opening their doors on April 24.  Located at 8 William Street in Trenton, the store is run by Kevin Hakkesteegt. He brings his 10 years of experience in the painting industry to help customers in the store. "With the growing population in Quinte West, the area is in need of a high quality paint store," said Hakkesteegt...........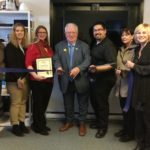 Ribbon cutting of new office space for Prime Focus Productions
-
Prime Focus Productions has moved to a new location at 84 Division Street in downtown Trenton. Joel George, the owner of the video production company grew up in the area but moved to the Toronto area for school. "Big-city life was a perfect match for me, but the beauty of the Quinte area pulled me back to my roots," said George.......

Ontario Chamber of Commerce News