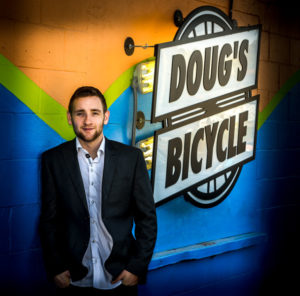 Having an acute attention to detail to quickly make changes to meet the needs of their customers is what has helped this young entrepreneur quickly become a leader in his industry.
Doug's Bicycle has been serving cyclists in Belleville for over 35 years, and has truly embraced the role of a local, community bike store.
At Doug's Bicycle Tyler strives to treat his customers like family, and to ensure that all of his customers whether they are experienced cyclists, new to cycling, or coming back to the sport in retirement, receive the quality service and experience that they deserve.
Tyler believes that through great service, products, and community involvement that he can help our community become healthier, more active, and more environmentally friendly.