The Global Experience @ Work (GE@W) Project is an initiative of the Ontario Chamber of Commerce, with support and funding from the Government of Canada and the Government of Ontario. The GE@W Project is designed to better integrate Foreign Trained Professionals into the labour force by facilitating a bridge between workers and potential employers.
The Global Experience @ Work Project – Quinte
The Global Experience @ Work Project – Quinte has worked within the Greater Quinte Region and surrounding environs, including Quinte West, Belleville, Brighton and Prince Edward County. It has been primarily a partnership between the Quinte West Chamber of Commerce, the Quinte Manufacturers Association, the Quinte United Immigrant Services, and the East Central Ontario Training Board.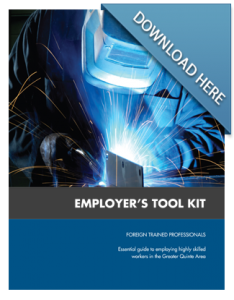 The GE@W Project – Quinte has made available the Employer's Tool Kit, containing helpful tools and resources to assist in the recruitment of Foreign Trained Professionals and Skilled Workers and is provided here for your convenience; just follow the link below from the Tool Kit cover page shown here.
EMPLOYMENT TRENDS: If employment trends continue to unfold as have been predicted, the Foreign Trained Professional will continue to be an extremely important recruitment resource.
WHY SHOULD YOU CONSIDER FOREIGN TRAINED PROFESSIONALS WHEN HIRING? Attracting, recruiting, and retaining Foreign Trained Professionals makes good business sense, providing new sources of talent that may have been otherwise overlooked.